Welcoming Ministries
Cornerstone Christian Fellowship - Hilliard, Ohio
Current Community-Focused Ministries
Our local community, the city of Hilliard, is a suburb of the greater city of Columbus, Ohio. Over the past decade, Hilliard has seen significant demographic change, particularly in the rapid growth of its international population, which includes many refugee and low-income families. The Hilliard City School District reports that we have families speaking 47 different languages representing 62 different countries living in this area of just 13 square miles. The top five most spoken languages are Spanish, Arabic, Somali, Japanese, and Gujarati.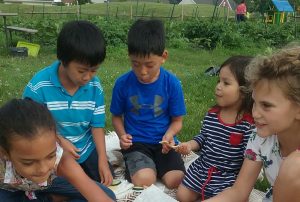 Over the years, CCF, though a relatively small Church fellowship, has expanded a wide and exciting circle of influence. We consider the heart of our Church to rest on the Gospel mission of sharing our lives with others. With the help of the Holy Spirit, we believe the Lord is blessing the earnest desire of our Church to build authentic relationships within our community; particularly, the international population of Hilliard. The programs below provide the context for the great majority of the relationships we have built with these Neighbors:
English Conversation Class
Community Garden
Kids' Garden Club
Farmer's Market Presence: Good Tidings Christmas Store, Winter Coat Store and "New Neighbors" Market stand
Most of our participants in these programs learn about us by word of mouth. As we build relationship with individuals, we find that they, in turn, become our greatest marketers as they invite friends, family members, neighbors, and coworkers to join our groups.
Contact: Irma Chon
email Irma
Phone: (614) 560-6190
---

Salem Alliance Church – Refugee Ministry
Salem Alliance Church has the vision to see Salem, Oregon as a city at peace with God. Part of that vision includes caring for refugees who have fled from war, persecution & violence as they are resettled in our city. Salem Alliance has partnered with Doug and Anya Holcomb, Pastors of Refugee Ministries, to lead a city-wide effort to welcome these new neighbors.
As Doug and Anya work with refugees, their goals are to mobilize the city, equip the church, and inspire a movement. They seek to mobilize the city by leading an independent network partnered with Oregon Resettlement Agencies, local businesses, non-profits, and hundreds of volunteers throughout the city. The goal of the network is to bring people and resources together to empower refugees thrive.
Doug and Anya seek to equip the church by collaborating with local churches, helping to lead a weekly International Prayer Gathering, and presenting churches with opportunities to come alongside refugees. They seek to inspire a movement by connecting with churches and organizations across the country to inspire others to reach out to refugees to their communities. 
Contact Doug & Anya: 
email Doug
email Anya
(503) 581-2129 x243
---

Envision Atlanta – Refugee Ministry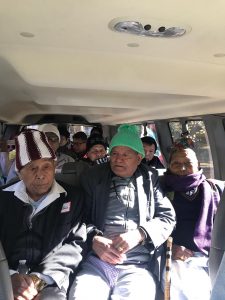 Envision Atlanta focuses on ministry to refugees in the city of Clarkston, Georgia. It is the most diverse square mile in the world, with about 200 different cultures represented. The unofficial statistic is that there are about 18,000 refugees living in 38 apartment complexes.  So far we have found 90 unreached people groups.  Many of them are unengaged people groups.
The felt need for these refugees is a true friendship with an American. So we minister to them as friend and neighbor. We have intentionally rented apartments among them, where they live, and we run our ministries in their midst — they don't have to come to us.  We seek to help our friends with their needs —  ESL, after-school programs, citizenship classes, jobs that allow them to be with their families more,  trauma healing focused on children, and ultimately their spiritual needs, as we introduce them to Jesus and the relationship they can have with Him.
For more information:
www.envisionatlanta.org
Facebook: Envision Atlanta
www.weareenvision.com
---
OTHER CHURCHES AND MINISTRIES COMING SOON!